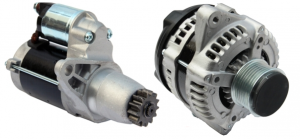 Having trouble starting your car? Stalling every time you stop at the traffic lights? You may need a starter or alternator replacement.
The good news is that the experienced technicians at Auto Edge are on hand to help. With over a decade of experience in auto electrical, we'll get you started up again in no time.
Your alternator is a small but important part of your vehicle. Without it, you have no electricity – so no lights, no electronic fuel injection system, no battery charging or (horror of horrors!) no stereo.
Your starter motor is pretty important, too. It does what it says on the tin: no starter motor means no starting.
Leaving your car running with a dodgy alternator can damage your battery by letting it run flat one too many times.
For that reason, it pays to get your alternator repairs seen to as soon as possible, before you have to add a new battery to the bill.
With loan vehicles and complimentary pickups available (even after-hours if you need – just ask), it's never been easier to make sure your car starts when you want it to.
For hassle-free alternator repairs, Perth locals can rely on Auto Edge. To request a quote or speak to our friendly team, call us now on (08) 9274 8083, or fill out our easy online booking form.
Contact Auto Edge: